Welcome to the Catholic Diocese website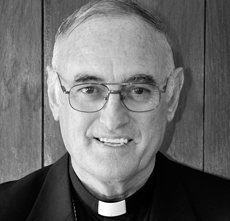 Bishop Paul Donoghue of Rarotonga, welcomes you to the Diocesan website.
Kia Orana,Many of you will be reading this page because you have discovered the Cook Islands as a tourist destination. Welcome to this secret of the Pacific. As you breathe in the fresh pure air, wade into the cool, calm, blue lagoons let the untouched charm of these beautiful Cook Islands capture your spirit and hold your heart.
I want to assure you this experience can have a religious component to it. For tourists who are Catholic this is an invitation to assure you how welcome you are to attend any of our masses either on Sunday or a weekday. If you are lucky enough to be visiting the islands in the northern group it will be a Eucharistic service led by a catechist. Your presence will enrich us in being able to meet with Catholics from another part of the world. Don't be shy in coming forward.
This invitation extends too, to anyone who wants a religious experience while in the Cook Islands. The spirit of ecumenism is alive in the Cook Islands and I am sure your presence too will help us breach our isolation. Another reason for the popularity of the Cook Islands is that many couples choose to get married here. This web site will provide you with the initial requirements to have a catholic wedding here. Kia orana tatou katoatoa i te aroa maata o te Atua!
Mass Time at Avarua Cathedral
SUNDAY MORNING: 9:00 AM Maori Service 10:00 AM English Mass
Weekdays:Monday to Friday - 7:00 AM. Saturday: 8:00am
Public holiday

8:00 AM in the Morning

For combined sunday masses

Only one mass at 10:00 AM
details
Mass Time at other Parishes
SUNDAY MORNING: 9:00 AM Maori Service 10:00 AM English Mass
Weekdays:Monday to Friday - 7:00 AM. Saturday: 8:00am
Public holiday

8:00 AM in the Morning

For combined sunday masses

Only one mass at 10:00 AM
details